Today we will be breaking down One Punch Man Season 2 Ep 12. This episode will contain spoilers so please check out the episode. AGAIN SPOILERS AHEAD. SO PLEASE CHECK OUT THE EPISODE BEFORE REAING AHEAD.
Now we have Bang taking on Garou and this is a one way fight which makes sense. Remember this isn't just master versus student this master versus poisoned  and injured student. So really this was meant to be one way but what we get during this beat down is worth as we get flash back as Garou is trying to hold off his master assault.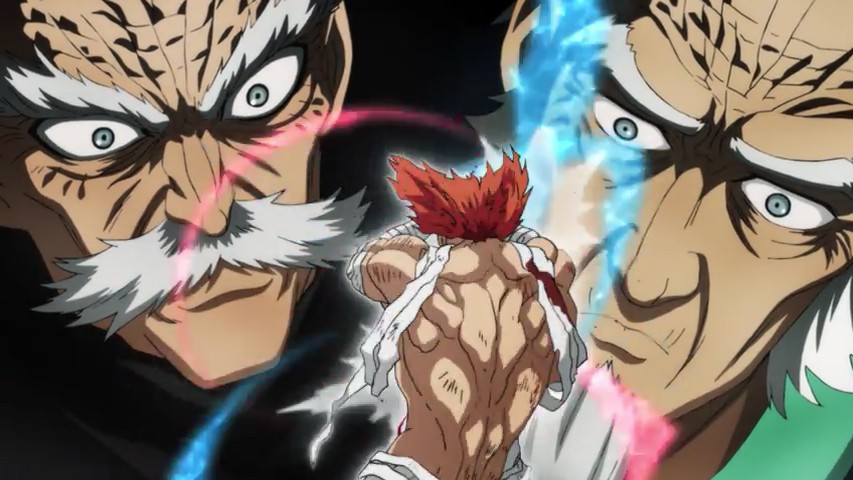 Now this is cool as this puts Garou in the same boat as comic book villain from the west. Meaning he wants back at the good guys for how he was treated seeing how they are what is wrong with the world. This goes back to him being picked as the monster. What we learned is this is how he was bullied as they always made him the monster. Now you don't need to think about this too much as no one likes to lose all the time so this would of course get under his skin. The fact that all the kids are shadows with faces just seem to show how Garou viewed them.
Thankfully before he killed Garou is saved by the monsters who come out to get him. Seeing as how they have the same goals you can see why they would want him. Plus he would make a great addition on the battlefield.  Now Garou doesn't want there help seeing as this is fight. But since he doesn't have the strength to fight back or argue he cannot. But this leaves Geno, Bomb and Bang to deal with the monstrous centipede which they cannot stop.
Now this is a problem as they must stop it but they cannot. Bang and Bomb attack only made it shed. Genos attack didn't do much either. Even though Genos is told not to be brash something the good doctor told him. Instead of stopping to think this forces him to act. But to no avail as again the armor seems to be full proof.
Good thing for them King showed up and he wasn't alone as he brought Saitama. Of course King sets the monster off so he goes after him and walk right into Saitama fist giving him a nice target. The episode ends with us seeing the monster association fly off with Garou setting up events for season 3. We will see then what happens to the hero killer than.
If you like what you see please like and follow. As always thank you for reading.