Fire Force Ep 17 Black And White And Gray is out. We will be breaking it down and as such there will be spoilers. If you do not want to be spoiled then check out the episode at Funimation or Crunchyroll. If you want you can wait till it airs on Toonami. AGIAN SPOILERS AHEAD.
Okay we start of Shinra tied up with Hibana over him as she had planted a bug on him. And I will admit to you I love this as we have Shirna saying you need to untie and Hibana is looking at him and contemplating whether to bring him back to company 5 tied up as he is. An idea that Shinra didn't like or take to well. I say that as the next shot has him running for his life. Something Hibana looks back on as she should have just taken him back.
Now that he is free first stop is the workshop. And he arrives in time to hit Giovanni and face Lisa who shows us her ability to create magma looking flames that appear like Octopus arms. Giovanni gets the key to Amaterasu which is a jump drive interesting enough as Vulcan had it in his projector.  Shinra tries to get back but is stopped by Lisa.
On the outside things aren't looking too good for Arthur as he is facing Shimer and Flail. But he does get help when Hibana shows up. This is interesting as Hibana uses her ability to raise the heat so Shimer can't use his ability. The problem is that this takes Shimer, Flail and Arthur. It is funny as we are reminded that she only spares one man that is Shinra from kneeling at her feet.  Luckily for Arthur something takes out Hibana.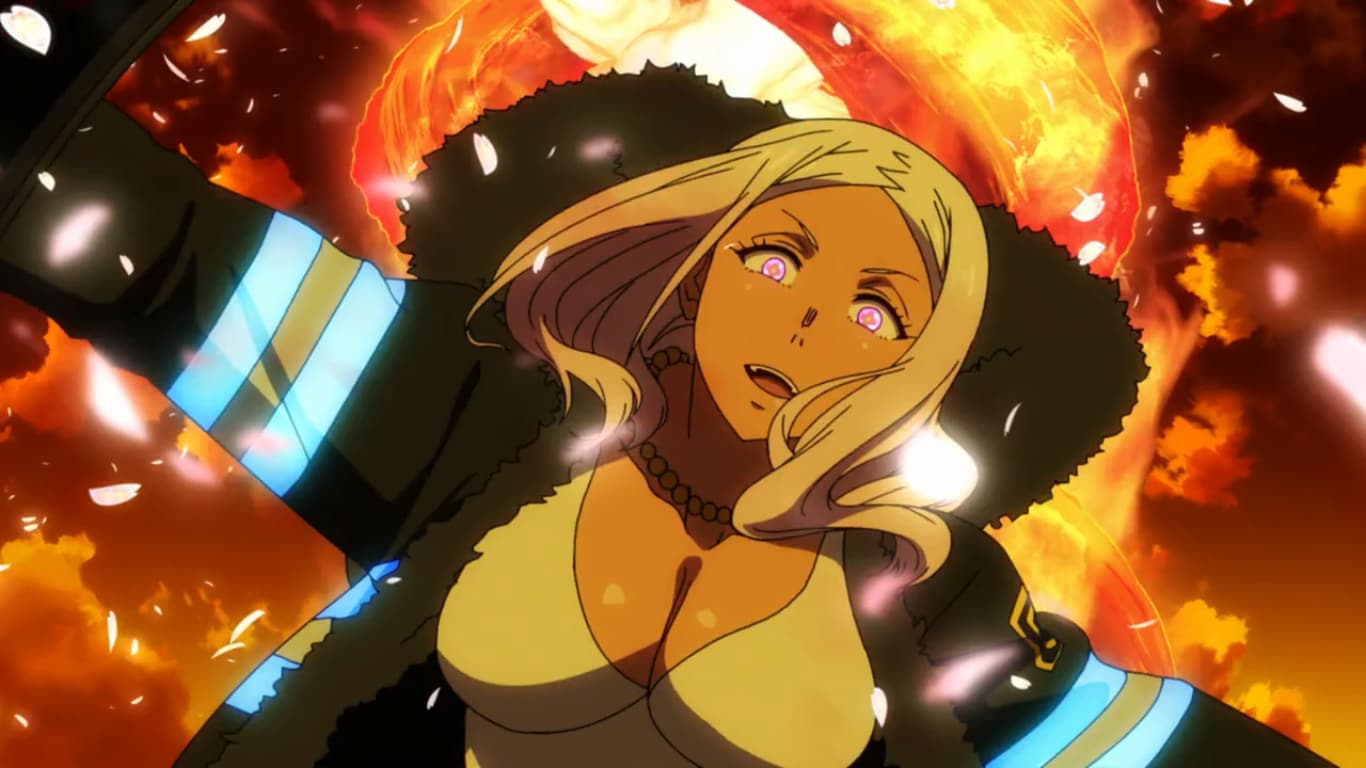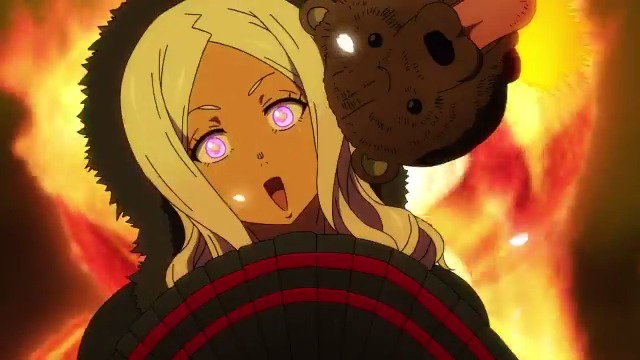 Now on the inside of the workshop Shinra gets the upper hand thanks to the toy animal heads Vulcan had Iris drop. These head emit EMF(electro maganetic field) that messes with Lisa control of her flames. This might be due to EMF interrupting her control and thus she cannot sustain them. Shinra takes this moment to take out Giovanni only to wind up outside to finally meet Sho.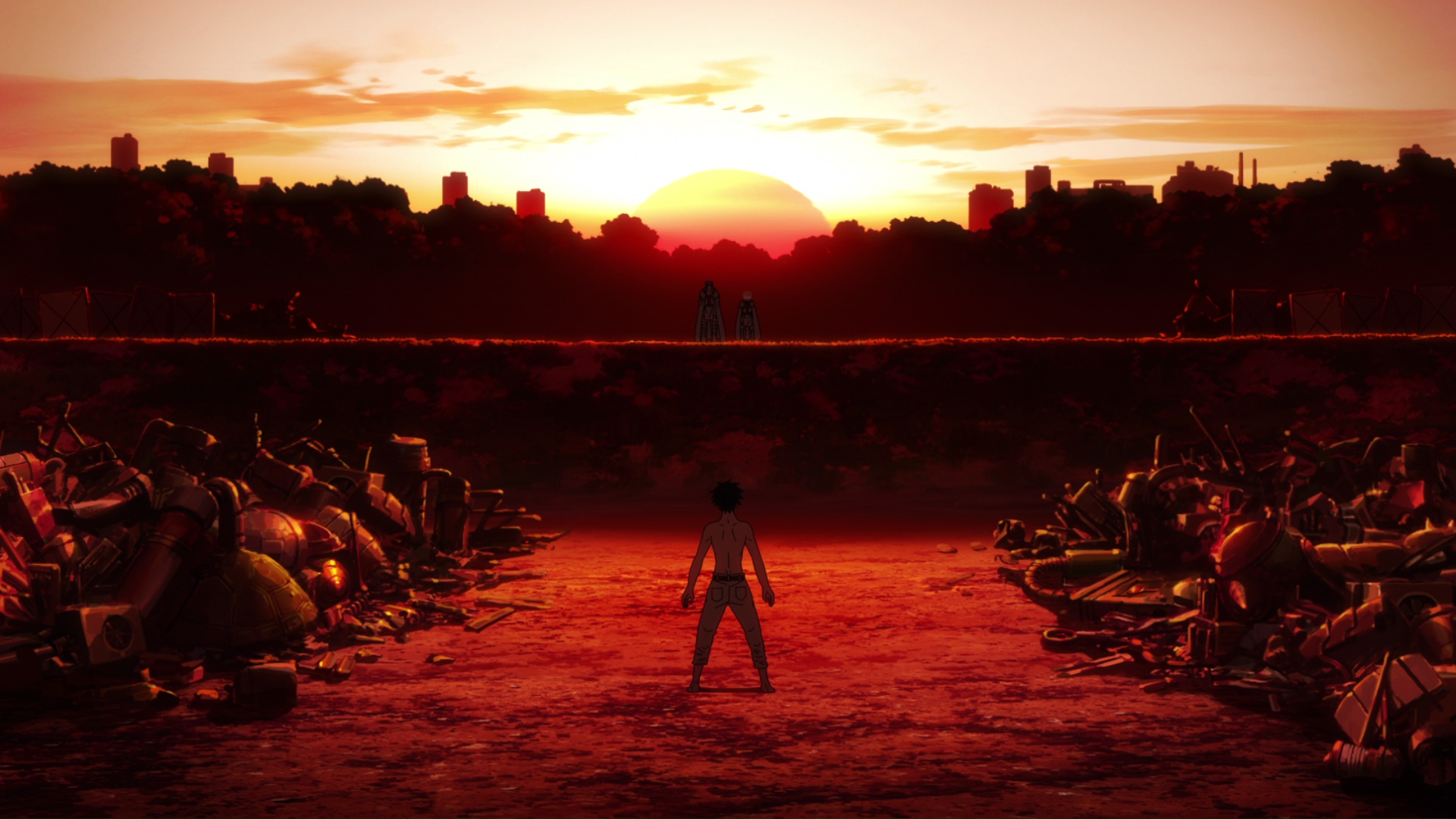 You have to remember when you are seeing this Shinra knows who Sho. He remembers there mother and what happened before the fire. Before they were separated and the reason that matters is that this means that only for one of these 2 this is a family reunion. Shinra sees him as his little brother but Sho doesn't know what to make of meeting Shinra. The only thing he can think of is disgust which is understandable in a way as Sho knows that he is brother but that doesn't mean anything to him.
In terms of abilities Sho just goes through everyone. His sword play goes through Arthur and his ability allows him to take down his brother. Keep in mind these two are not at a 100 percent with both Shinra and Arthur having had a long day to say the least. So in terms of how powerful Sho is compared to them if they were to go at is hard to say. It is even harder to say as the one person to hold there own is Joker who arrives to cover Viktor getting everyone out of there.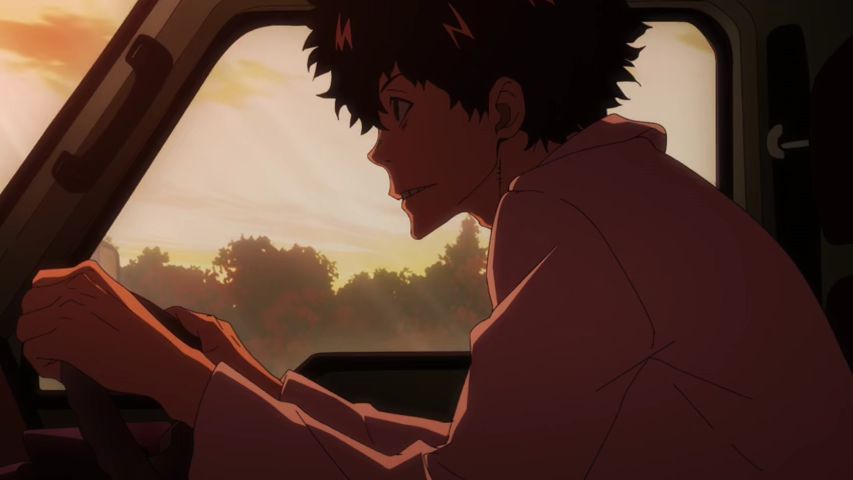 Now this makes things harder as we have the fight come out even between the 2 3rd generation fighters. Something that only blurs Sho power and capability even more. We could just say it is his debut in action and as such he is getting a ride. If you don't know what I mean by that basically when a new character hero or villain is introduced to be something big in combat there debut has them virtually untouchable for a short period in both comics and manga.
Now that the fight is over Shinra gives his report at the hospital as Yu is in recovery. During this time Shinra and Vulcan come to terms as Vulcan understand he isn't the only one who has it rough as he learns that Shinra just faced off with his brother. The first step in him becoming part of the team. But while we have bonding upstairs we have interrogation below as Hibana question Viktor about his timing. She give him a threat that if anything happens to Shinra she will grin him to dust but something is odd here. No one seems to mention Joker sudden save. They might have missed it as it was fast but it seem odd.
Now we have the episode with Vulcan joining company 8 after sayin goodbye to his father and grand father graves. Well that and we have the girls seeing Hinawa as out girlying them which begs the question can either of these 3 cook. He then proceeds to put a skull on the company fire house too which we learn Obi into metal.
If you like what you see please like and follow. As always thank you for reading.